Greetings Gold Adventurers...
I decided to hit Cache Creek one more time before Winter Storm Vexo ( got to love the names)  pounded us with 1 to 4 feet of wet, heavy snow.
So, I headed up to Cache Creek about 8:15AM to see IF I could beat the storm, get in a few hours sluicing and check out the West end of the property.  I arrived at the locked gate on Power line road about 8:45 AM, decided to walk in the mile or so, take only the minimum equipment.
Someone had taken a road grader and really did a nice job grading out all the pot holes, ruts, rocks.  Looked like an airplane runway.  Nice.  So, I started walking in to the placering area parking lot and on the way, pushing a nice, cold headwind, I spotted some really BIG footprints in the soft soil and later at a muddy spot.  They had exposed claw marks, so not a mountain lion.  Most likely from the canine family.  A REALLY big dog?  A wolf?  My Chapstick is used for size comparison:
Regardless, I kept my head on a swivel and my shovel at the ready...
Finally making the parking lot after about 30 minutes, well, it looked so nice, clean, smooth, peaceful.  Last time I was here, when I hiked in back in February to metal detect, it was under 1 1/2 feet of white snow:
As I walked past the "feeder creek" by the parking lot I could see it was bone dry.  Ugh.  Not a good sign.
O.K.  Onward..........I went about 1/4 mile further with all my "stuff" and arrived at the spot I wanted to sluice.  Sadly, even now it was cold, frozen, no water flowing yet from snow melt:
So, bummer....  The bog area above was bone dry.  No wonder there was no flowing water:
So, time to move before the snow started, look for a spot, any spot to sluice for some gold.  I ended up finding the real Cache Creek and boy was it low, like a little ditch this time of year.  How the BLM thinks Cache Creek is some sort of "major fishery" I'll NEVER understand.  Especially with zillions of other, bigger creeks between Leadville & Pueblo on the 152 miles of Arkansas River drainage.  Just silly, plain silly.
Anyways, I dropped my equipment, sample panned up 6 or 7 pans from all over.  Nothing in most pans and a few nano specks in others.  Bummer...   Here's the creek as it REALLY is in April:
So, I ALMOST gave up, hiked back to the Jeep.  But, after the intermittent popcorn snow stopped, I felt I had more time.  So, I worked my way down the creek to a spot worked hard last year by others.  I sample panned up the clays, the gook, the berm, the unfrozen sands and eventually found a sandy layer I could run some buckets and get some fine, fine gold.  Here's my Le Trap sluice setup:
I watched as the clouds grew darker, the popcorn snow fell intermittently, and up above Quail Mountain to the West a thunderstorm was rocking & rolling and we had "thunder snow".  Ha. It was cool, windy and damp.
My sluice building black sand & gold:
A shot of Cache Creek looking upstream:
So, by 12 noon I had dug & classified & sluiced 10 mostly full 2 1/2-gal pails of dirt.  I was tired, had a long walk out ahead of me and the popcorn snow started to get a little more frequent.  So, I cleaned up, packed out, took some trash left by others and started the long hike back to the Jeep with all my stuff...
I made 1 short video:          
https://www.youtube.com/watch?v=LSTNanFDAfU
As I headed North on the power line road the wind really picked up, I got snowed on the whole way back and got to enjoy "thunder snow" again.  Remember I said the road grader had the road almost to perfection?  Take a look:
I mean one could easily do 50+ MPH on this smooth road!
I got back to the Jeep after 37 minutes of power walking, threw my stuff in and blasted home.  Nobody & nothing around.  I "owned" the place....  VERY cool.  
Here's my cons final cleanup gold...  All totaled up it's 6.6 grains or .43 grams.  BUT, I had a few of the bigger pieces already in my snuffer bottle, so I estimate a more accurate actual gold take of 4.6 grains or .30 grams.  Not too bad for that dirt I was working:
Back home Winter Storm Vexo hit about 5PM in earnest with rain/sleet and then snow about 5PM when the temp dropped towards 32F.  Snowed on/off last night, was snowing this morning.  About 1 and 1/2 feet so far.  I plowed the back area, parking and driveway out to CR 367 with my trusty blower this morning.  Here's 3 pics FYI:
So, it's STILL snowing, basically nonstop 8 hours later and we've got another 8+ inches.  Fun, fun, fun...  Probably 2 feet now.
Hope you too get out, before a big storm hits, find some "wild" gold for yourself...  
Randy  C-17A
Last edited by Admin on Tue Apr 19, 2016 6:12 am; edited 6 times in total
Sir:

Once again some great pictures and video, thanks for sharing. Glad you were able to get back out one more time before the storm hit. We've had very strong winds for about 24hrs now, not a lot of snow maybe 5-6in but have drifts 3-4ft. Hope this is the last big storm ready for run-off and some hard fun at Cache Creek.......

Ron

Chief05




Posts

: 36


Join date

: 2015-12-03


Age

: 65


Location

: Falcon, CO



Chief,
Ha.  YOU told me to go...........
I did. It was fun...
Now, we're at least 2 weeks in delay D2 this snow fall.....  STILL snowing outside.
O.K. I just panned my cons & too pics. Included now in the Trip Report above. Enjoy!
Ugh...
Randy  C-17A    
Last edited by Admin on Sun Apr 17, 2016 3:54 pm; edited 1 time in total
SALUTE on your ethics / character Randy!! You atleast got out and had the place to yourself! All I did yesterday was mow the lawn and sip some ice tea. Today it is supposed to be even nicer (upper 70s to lower 80s) NOT to rub it in but Id trade you even with the snow!

russau




Posts

: 486


Join date

: 2015-11-30


Age

: 73


Location

: St. Louis , Misery



Hi Randy:
No snow here either, we have grass to cut (not smoke) Ha. You got it good out there. Well spring is on its way. It won't be long now.

Stay warm.

Dickb

dickb




Posts

: 203


Join date

: 2015-11-29


Location

: Eastern Iowa, Clover, SC



Randy, Nice puppy tracks!! LOL!! Wow those are some really nice boulders you got there. Nice and chunky gold. Way to go. Yeah been bush hogging all day myself. Mow lawn tomorrow if its not raining.
John,
Thanks for looking....
You gonna sell that aircraft trailer, get a big ass camper, come back to pot smoking "High" Kolorado some day?
Oh, prospect for some gold, wash some "dirt", have some fun???
Randy  C-17A  
Randy, Yes I'm going to buy a big camper, four season, by Hartland, the Imagine series. This is the one I want 2800BH model. Just got to finish up this chopper first and get it delivered. Than the trade and the move is coming. I forgot there's two kinds of gold in the "High" Kolorado. LOL!! Few more days like this one and well maybe.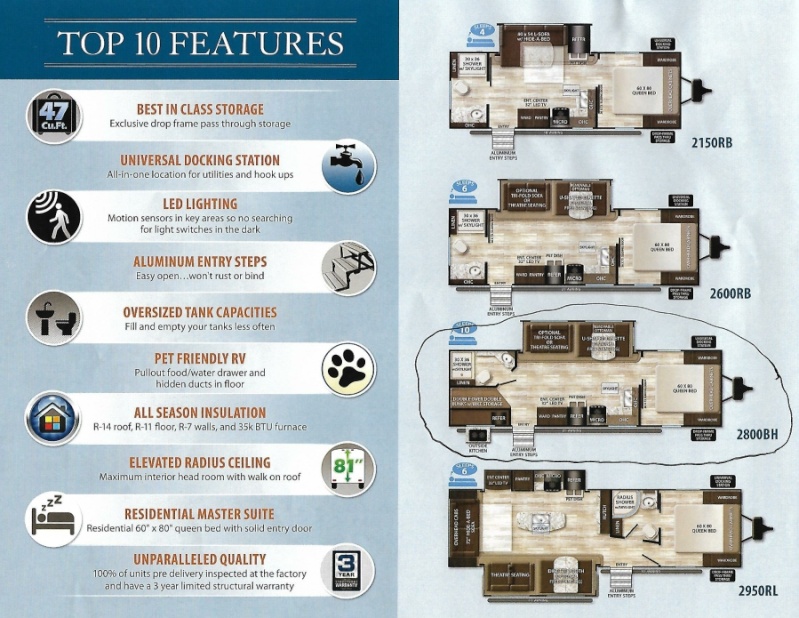 John,
Wow.... That isn't a "camper" as most of us know one............it appears to be more of a land yacht!
81 inches of head room, a residential master suite, oversized tanks, aluminum entry steps, LED lighting, a universal docking station (sounds like a space station, Ha.), best in class storage & unparalleled quality?
Hell, brother......... Life will be so "cush" you'll never step outside to get cold, tired, dirty.......prospect for gold!
Anyways, I like it! Can't wait to drink some beers in it with you after a long, hard day of gold gettin'.
Randy C-17A
ALCON,
Well, WS Vexo appears to be the Spring storm that "keeps on giving"...
Had about 1 foot on Saturday, 1 foot on Sunday......then, Monday was pretty clear, partly sunny, warm......got some to melt in.....and last night we got another 3 to 4 inches or so as the "wrap around" counter-clockwise rotation brought moisture up from the South and above Denver area and back South to us in the High Country to the West...
Just white getting whiter!    Will take that much longer to melt in, allow me to get back to the Ark & Cache Creek for more Spring gold prospecting...
SO, bummer.  Not that we don't need the extra moisture, as 2/3rds of EVERY snow flake, every drop of water is "owed" to other states & Mexico!  Hell, we can't even legally collect rain water off our roofs!
People have been trying for YEARS to get "legal" authority to collect 2 55-gal barrels of water for watering plants & gardens.  MAYBE this year the bill will pass:  http://www.coloradoindependent.com/158551/rainwater-harvesting-may-no-longer-be-outlawed-in-colorado
I read that the People's Republik of Kolorado is the ONLY state in the nation that makes it friggin' illegal to collect rain water off your own roof, on your own property.  Talk about TOO MUCH "government".
I am not holding my breath...
Randy  C-17A  
---
Permissions in this forum:
You
cannot
reply to topics in this forum