Hey Gold Adventurers...
I used to own the standard, big Keene 4 inch dredge with 4 pontoons and big 48 inch triple stage sluice box.  Sold it when I moved from Georgia to Colorado.
Now have a Keene 4 inch Ultra Mini dredge with air......smaller, easier for 1 man to operate, move.  Trouble is the sluice box is designed for big gold, is only 40 inches long and single stage.
To better catch the gold here in Kolorado , I have completely modified the sluice box for the fine, fine flood gold we have here on the Arkansas River...
I took out the factory everything....riffles, mats, screens.  Then extended the box, installed nothing but Vortex-type matting with a 1 foot section of Gold Hog UR mat under the flair.  I made a rock screen full length to keep all the rocks bigger than 1/2 inch tumbling out the back, off the matting.  Works absolutely GREAT separating the flood gold from all the heavy black sand!
Here's my dredge in action.  John & I ended up with 8.65 grams, including 1 nice picker, in 8 hours of nozzle time.....one cleanup every hour:
https://www.youtube.com/watch?v=RNFeeLqQrNE
https://www.youtube.com/watch?v=1d2Bwl6lhhM
Break, break...........
Well...............totally reconfiguring my Keene ultra mini 4 incher's sluice box has worked out EXCEEDINGLY well...
Mod 1 was as described and shown above.  Added 2 feet, nothing but Vortex-type conveyor belt matting with 1 foot of GH UR mat under the flair.  This gave me 64 inches or 5.3 feet total length.  I run it for 1 hour clean up to keep the matting clean.  Works GREAT!  
So, after John & I running it on his claim 5 & 6 April.............and having GREAT success, I decided to do a Mod 2.
Mod 2 was to prep for John's return in late August and we'd dredge for about 10 days together on his claim...
I figured that if a 2 foot extension was good, a new 4 foot extension would be BETTER.  

  This would give me just over 7 feet of sluice box.  So, I got a new piece of aluminum sheet, had it bent, got an 8 foot section of Vortex matting, reworked the sluice box again...
Pics of the Monster "Long Tom" box I created are here:
O.K.  In
theory
bigger and longer is better...  BUT, in practice on the Ark I discovered the following:
1).  Where I normally ran about 3/4 throttle on my 6.5 HP engine to comfortably keep the rocks tumbling thru and out the back of the sluice box, here with the extra 2 feet I had to run FULL throttle to try and get enough water flow.  I discovered that even with a buddy tending the box, to keep the rocks from slowing down and piling up and trying to sink the dredge from the rear of the sluice box, the enormous amounts of heavy black sand in this gold bearing material would "crawl" so slowly towards the back I'd have to just let the dredge run, sucking nothing but water, to try and keep the matting open, clean.  This really slowed down moving material...
2).  After the first day's frustrations, I went home got all the "old" Mod 1 stuff and reconfigured the sluice back to Mod 1 status there on the Ark.  Guess what?  It went back to working perfectly!  So, I kept the Mod 1 configuration for the rest of the 8 days dredging ops.  Worked great!  

3).  This year me, John & his buddy Bill worked his claim for about 9 dredge days.  I had a buddy from C. Springs, Ron, up for 3 days helping me.  We took turns on the nozzle, pitching rocks, tending the box and sharing the "fun".  These were Days 2, 3 & 4.  We got 8 grams those 3 days....so a 50/50 split of 4 grams each.  
Overall, for my 9 days I put in a total of 31.5 hours on the nozzle..........ended up with a total of 21.92 grams of fine flood gold.  The Chief earned 4 grams, so my personal total was 17.92 grams.
Here's a bunch of pics of our dredging "adventure" and my panned out gold take by day.  The pennies are numbered by day.  Then, a total by screened size at the end:
Here's me converting the 4 foot extension back to the first 2 foot extension:
An old miner's cabin on the claim:
Yours truly at end of day cleanup:
Me, Bill and John Gold Cubing our cons at end of day:
Pics of each day's dredge take from my dredge:
Day # 9.  A short day.  Only dredged about 2 hrs in a new spot.  Not very good:
Total gold screened into 3 sizes...  75 to 80% was -50 mesh:
Here's a compilation video I posted on YouTube showing the 21.92 grams all combined on my scales:  
https://www.youtube.com/watch?v=ReXXodN8mRQ
So, I'd call all that "hard fun" a big success!  

Randy  "C-17A"  

Awesome memories Randy!  So glad you are willing to write it all down.  Someday we will enjoy reading these summaries and remembering the days were were still young enough to drag a dredge around the river and have "hard fun".

OKJohn



Posts

: 9


Join date

: 2015-12-07



Hey John,
WELCOME to the "new" GA Forum!!!!!

Yep, we did what we could do... Still waiting to see what you and Bill cleanup, end up with...
I DEFINITELY think this new, 2 foot extension & Vortex-type mat & screening setup is WAY better than the standard Keene setup for the fine, fine gold here.
Can't wait to reconfigure my box for pickers & bigger gold for our suction dredging over on the San Juan River next August... I have a bunch of slabs of different Gold Hog matting in the shop. Will probably end up contacting Doc at Gold Hog and see what he suggests...
I may be almost 56, BUT I am still ready, willing & able to drag a dredge, camp in a tent, live out of a cooler.......to create a great "Gold Adventures" memory, find some wild gold!

Snow still on the ground here............cold. No Elks in sight, yet.
I sent you a Christmas gift in the mail today. Enjoy.

Plz keep reviewing, posting...
Randy "C-17A"

Man I had a great time with you and John. I really enjoyed that trip and experience whit the both of you. I'm like you two guys I enjoy camping myself. Tent or what ever. I'm planning on trading my aircraft trailer in for a new camper to bring up to Colorado and leave it so we can just come up and stay when ever we want not have to pay a 175.00 a night motel.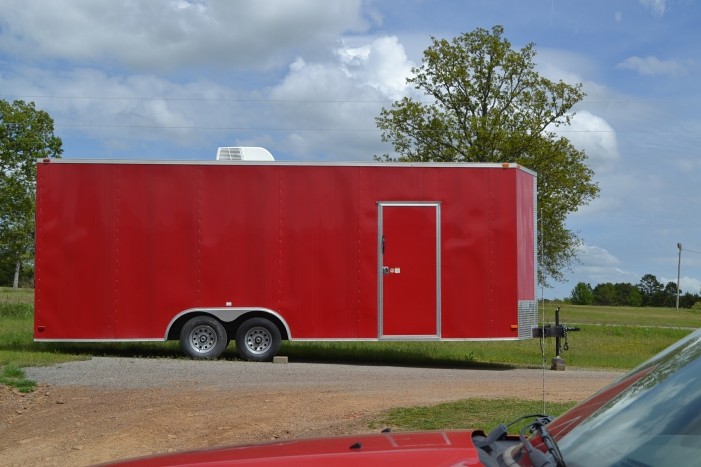 Posts

: 38


Join date

: 2016-03-11


Age

: 51


Location

: Arkansas



What a great dredge setup you have here's a little video of it in action.





Posts

: 38


Join date

: 2016-03-11


Age

: 51


Location

: Arkansas



John,
Thanks for posting this action video!
I seldom get many "action" pics or videos of me.............as I am the one usually trying to both prospect, mine AND work a camera.  Always a view or shot with ME behind the view finder.  Ha.  
We used my dredge again here on the Ark 8, 9 & 10 April.  Bill & John Hart & I "team dredged" for 2 1/2 days.  We each got some cons for all our hard fun".  

Check out the Trip Report and videos here on the Forum under Western Gold States.
That 2 foot extension on my Keene ultra mini 4-incher is still the flood gold bomb! I can run it at 3/4 throttle, get a very smooth flow, great clearing.  I cleanup every hour.
Sadly, my 4 foot extension was just too much, too long.  Even at full-throttle, not enough water flow to keep the Vortex matting clean of black sand and enough water velocity to keep pushing the rocks out.  Oh well...  It was worth a try.  IF had a 5 incher and bigger engine/water pump, THEN we'd have had 7 feet of fine flood gold gettin' box instead of the 5 feet I have now.
Randy  C-17A  

P.S. A new camper would be GREAT! Yep. Camp for almost free, be by the river, hear the rushing water...... Nice.
---
Permissions in this forum:
You
cannot
reply to topics in this forum